Digital Marketing Executives/Assistant Managers
Roles & Responsibilities:
Execution of Search Engine Optimization on a continuous basis
Be actively involved in SEO efforts (keyword, image optimization etc.)
Provide creative ideas for content marketing and update website
Measure the performance of digital marketing efforts using a variety of Web analytics tools (Google Analytics, WebTrends etc.)
Plan and monitor the ongoing company presence on social media (Twitter, Facebook, Linkedin etc..)
Create and modify social media strategy in driving the traffic and engagement to the website and other required pages
Develop and manage digital marketing campaigns
Work on paid campaigns on Facebook, Google Adwords, Linkedin, and Twitter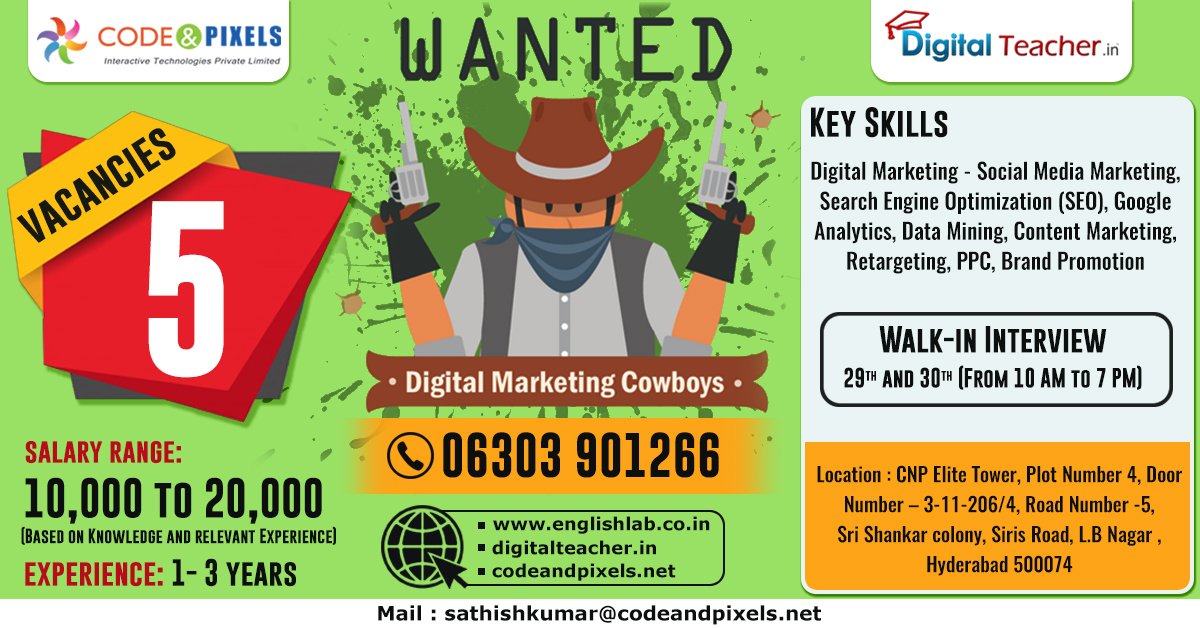 Key Skills:
Digital Marketing – Social Media Marketing, Search Engine Optimization (SEO), Google Analytics, Data Mining, Content Marketing, Retargeting, PPC, Brand Promotion
Walk-in:
CNP Elite Tower, Plot No.4, Door No. 3-11-206/4, Road No.5, Sri Shankar Colony, Siris Road, LB Nagar, Hyderabad – 500074.
Contact details:
063039 01266
sathishkumar@codeandpixels.net
Click here to Apply: http://bit.ly/2HyKzOw