In today's time, the education field does tremendous revolution worldwide with compared to other fields. Digital Classroom Software is the best tool to make the scenario of the Computer-Based Teaching. The software is specially designed for encouraging, managing and enhancing learning. A digital classroom is a place where a teacher facilitates and the learners engage with the interactive content and tools of the software of digital classroom. Technology provides convenience and cost-saving solution for learning.
A new science, instructional technology takes care of the design and development of engaging and effective learning experience for people.
Digital classroom software makes the digital environment more effective with reliable integration of technology. Digital tools transform smartphones, laptops, and tablets into teaching tools, allowing teachers to create a robust digital classroom.
Teaching English is fun using English learning software that facilitates students with English language lab with English learning videos and English listening videos. Teaching English means to make students efficient in listening, speaking and writing. English learning videos give an in-depth understanding of the core basics of the English language while English listening videos give ideas of pronunciation, voice tone, and how to deliver a speech using proper pitch.
Various features are available in digital software that enhances flow less teaching and learning. eLearning software can have different modules for teachers, students, parents, and schools.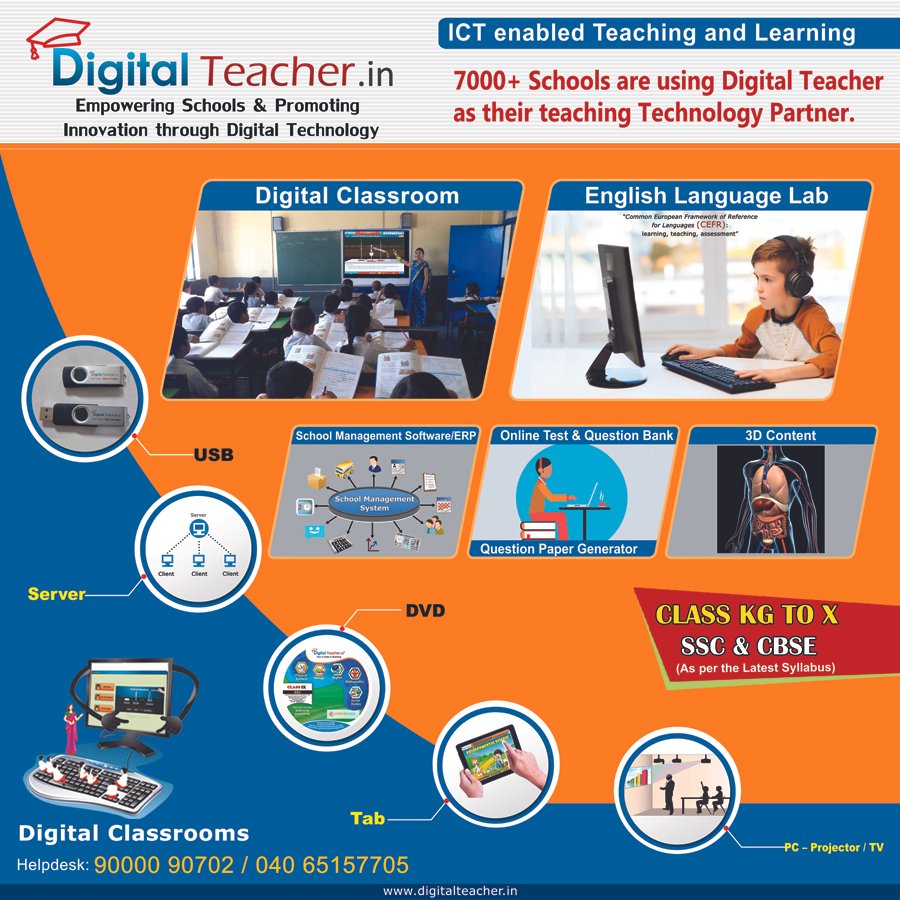 • Effortless content creation: Teacher's screen can be recorded automatically with a sound that can be used as many as times students want.
• Comprehensive workflow: Recorded lectures are automatically sent to the cloud of the software.
• Edit recorded lectures: Teachers can edit recorded lectures if needed.
• Key point bookmarking: Teachers and students can underline or highlight the topics.
• Integration: Plan lessons and tests in advance. Teachers can also add power point presentation, pdf, and images as per their requirements.
• Broadcasting sessions: Teachers can publish live class on the internet for other students. Monitors the status of the class.
• Publish: Any authorized can publish the smart class content of session on the digital library of campus and web-based library.
In addition, it facilitates teachers in taking attendance, giving automatic grades on bases of attendance, easy to create to evaluate exams and multiple-choice questions, create report cards and
send them online.
Frequently Asked Questions
What are the benefits of digital classrooms?
Digital classrooms have a number of advantages, including greater student and teacher cooperation, more individualised learning opportunities, and more effective and efficient teaching techniques. Additionally, they give students the option of learning at their own speed and offer a platform for distance education.
What are the elements of a digital classroom?
Digital devices including computers, tablets, and smartphones are frequently used in a digital classroom along with software and apps for education, online resources, learning management systems, digital exams, and other tools to improve the educational process. Projectors, digital whiteboards, interactive displays, and audio systems could potentially be used.
What is digital classroom technology?
Technology used in digital classrooms to support teaching and learning is referred to as "digital classroom technology." These could include of hardware like laptops, tablets, and projectors as well as software like learning management systems, instructional apps, and online assessment tools.
What is the importance of digital classrooms in teaching?
Digital classrooms are crucial in education because they give students a more engaged and interesting learning experience. Additionally, they give a more individualised learning strategy that lets students progress at their own rate and provide immediate feedback. Additionally, remote learning is made possible in digital classrooms, which is a feature that is more and more crucial in the modern world.
What is the difference between digital classroom and smart classroom?
A smart classroom, then, is just a digital classroom with more power! It makes studying much more enjoyable and successful by utilising cutting-edge technology and interactive tools. On the other hand, a digital classroom is just a classroom that makes use of technology to aid in student learning. While smart classrooms include even more exciting features like digital whiteboards, projectors, audio systems, and interactive displays, both use digital gadgets, cool apps, and internet resources. So a smart classroom is the way to go if you want an immersive and interesting learning experience!